Regular $199.50 | Save $149.55 on the 50 Sewing Lessons
✂️ 50 Lessons For $49.95
👉 This special Includes Lessons 1 - 48 and two Bonus Classes.  50 PDF Booklets (One for each class).
⭐ This is a Limited Time Offer with Instant Delivery
Take Me There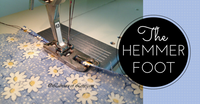 Test Drive the FREE Hemmer Lesson
👉 Click the button and enter your email so we can send you the Lesson & 36 Page Notebook
⭐ We know that learning is easier when you have an excellent teacher.  Debra Justice is an internationally know speaker, teacher and author on sewing.  She is passionate about the techniques she teaches and brings this enthusiasm and love of sewing into each lesson.
Sign Me Up!