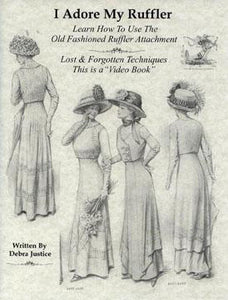 I Adore My Ruffler, Learn How To Use The Old Fashioned Ruffler Attachment
Regular price $19.95 Sale
This book has the lost and forgotten techniques on using the Ruffler Attachment.
Learn to gather fabrics and lace and attach them in one step to an edge or anywhere on a background fabric. The Ruffler also pleats ribbon, fabric to perfection in one simple step. You will be amazed and wonder why you haven't learn all about it sooner. Specifics on how to attach, use, and oil the Ruffler are also included.
This is a "Video Book," with fifteen of the techniques having links to private online videos so you can see the Ruffler Foot in motion. Debra also covers sewing machine shanks, needles, bobbins, balanced tension, and stitch quality. This book will become an essential reference manual you'll want to keep close at hand while learning to use this wonderful foot. 36 pages, soft cover.
You can see the Table Of Contents Here.
.
⭐ You can save on this book if you choose an Instant Delivery.