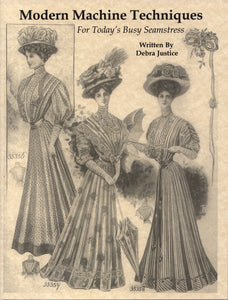 Modern Machine Techniques, Learn to Use Specialty Needles
Regular price $19.95 Sale
This book is full of really neat useable machine techniques.
Starting with twin needles - learn everything there is to know about threading and stitching. Straight pintucks, curved, shadow, reverse and faux to name a few.
On to the wing needle for pinstitching, attaching lace and Swiss embroideries and wing needle hemlines. Try the fantasy hemstitch with the double wing needle and fancy top stitching on pretty blouses.
Learn how to make faggoting easily by machine as well as how to use your gathering foot and ruffler. Debra uses the twin, wing, double wing and triple needles.
Use this as a work book and learn as you go. 36 pages, soft cover.
You can see The Table Of Contents Here.
.
⭐ You can save on this book if you choose an Instant Delivery.